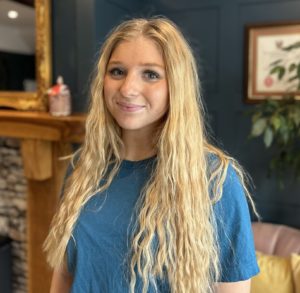 Hi I'm Flora and the receptionist at Back to Fitness Physio. 
I am a lover of hockey and dance and have competed in both for over 10years.  I am about to study a-levels in sport, business and geography as I hold an interest in the wider world and the fabulous ways our bodies work (perfect for working here at Back to Fitness Physio)!
I love working here as Charlotte has given me the opportunity to build my confidence in greeting new people and I am learning more about the world of Physio. I even enjoy making cups of tea!
Back to Fitness Physio is the perfect place for me as I'm surrounded by the most amazing, friendly colleagues.  Everyone is so kind and this will come across when you visit us. 
I love it when clients tell me about their days – it makes my day all the brighter. Looking forward to meeting you soon and having a natter xx